What to Watch: 'Almost Famous'
 You would not be wrong if you said that this particular era shaped not only the United States, but the entire globe.
Among the madness that was the '70s; peace, love, war, and drugs had a firm grasp on the young generations. But perhaps the most prominent aspect was the music.
The '70s saw the fall of the Beatles, the rise of Led Zeppelin, Lynyrd Skynyrd, The Grateful Dead, and even gave birth to punk rock. This soon led to bands like The Clash and The Sex Pistols raising hell in the later half of the '70s.
'Almost Famous' shows the musical evolution in a new way.
William Miller (Patrick Fugit) spent the days of his youth reading and writing, which eventually made him a social outcast. Being smaller, and younger than many of his classmates, he never really felt he belonged.
Their suburban home in San Diego was not far enough from the "evils" of rock and roll, as his mother, Elaine (Frances McDormand) believes. Elaine is a strong believer in leading a happy life, which meant there was no time for the pleasures of music.
At home, William flourished. Everything he loved to do was amplified by his mother, who loved him greatly and had an everlasting desire to forever protect him. His sister, Anita (Zooey Deschanel), resented the life she had in the Miller home.
Fond of the Beatles, Jimi Hendrix, Iggy Pop, and Led Zeppelin, Anita was the rebellious figure William looked up to. On her 18th birthday Anita leaves home to be a flight attendant. Her mother is certain she will return, but knows she must leave.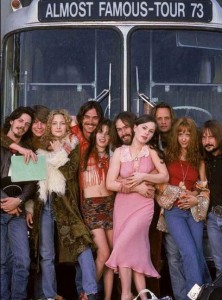 A young William then receives a gift that will set the entire path for his life. Anita left her entire collection of records for him. Within the first moments of  his first rock song he is determined to write about music.
It is now 1973. William Miller is fifteen years old and has been writing for numerous underground magazines that center on music. After hearing an interview with Lester Bangs (Philip Seymour Hoffman), a disc jockey and fellow music writer, William is determined to write about the best bands.
Bangs and William meet at a diner and have a conversation about how musicians are the worst people to befriend. Bangs tells William to quit writing about music, as all the famous types will pollute him.
Despite his suggestion, William presses for the opportunity to write about influential bands. Bangs reluctantly assigns him to write about Black Sabbath by going to a concert and meeting the band backstage. Bangs pays William $35 and sets William on his way.
Upon attending the concert where he is to meet the legendary Black Sabbath, he is turned away by a bodyguard. William is then approached by the mysterious and "world renowned" Penny Lane (Kate Hudson).
William then tags along with the up and coming band Stillwater, in which the lead guitarist, Russell Hammond (Billy Crudup) immediately takes a liking to William.
But behind the playful nature of the band and the friendly tendencies of Russell harbors a deep and burning love for Penny. Before long Russell, William, and Penny are embroiled in a love triangle.
William's first experience with the band is a nightmare for him. Nicknamed "The Enemy" for his role as a journalist, William is ousted by the band at first.
He attempts to interview the lead singer, Jeff Bebe (Jason Lee), but it ends in a tirade on how he is a music Messiah and how enemies (referring to journalists) can never be trusted.
Penny comforts William, and tells him to talk to Russell. William does so and the two bond almost instantaneously.
Back at William's house, he is called by Rolling Stone's chief editor Ben Fong-Torres (Terry Chen) who thinks William is older than he really is. Fong-Torres assigns William to write a feature about Stillwater and agrees to pay him $1,000.
A new manager comes, Dennis Hope (Jimmy Fallon) comes to direct Stillwater in a better direction. Later that night, Jeff and the band Humble Pie play cards with the roadies, including Penny, to be given over if they lose.
In the end, Jeff loses but is rewarded with $50 and a case of beer. William discovers the game, and tells Penny who is in disbelief. She is devastated, and says she wants to get away from all of the fake people and abuse.
Her and William make a pact to travel to Morocco one day. Penny departs with Humble Pie and William and Stillwater pack onto a small plane.

On the plane, the band flies through a horrible storm. Believing they will die in a "glorious crash" like Buddy Holly, the band begins to confess their secrets. When Jeff insults Penny, she is immediately is defended by William who expresses his love for her. Shocked, everyone sits in silence as their final moments hurdle towards the earth.
The plane eventually steadies out, leaving all member except Russell in a state of happiness.
In New York, William meets Penny who has "left" the music world. Still broken about the gambling ordeal, she intends to stay away from Russell and the band.
Despite her best wishes, she bumps into the band at a party leaving her to run away in tears. William meets her at her hotel room to find her delirious.
She had overdosed on Quaaludes in an attempt to commit suicide. William phones a doctor, who quickly rushes into the room and begins to pump her stomach with William quietly watching.
After the near death experience, William and Penny hop in a cab and take it to the airport. Penny gets on a plane heading to California. Consumed by sorrow and love, William sits alone in a busy terminal.
His sister, Anita, sees him alone and begins to ask him what he has been doing. Before he can answer, William begins to cry. Anita and William get on a plane for San Diego, their home.
Back in San Diego, William goes to meet Fong-Torres about the article on Stillwater. It is revealed that the band denied all of the quotes and legitimacy of the article.
The story is dead leaving William alone at a conference table to contemplate his time with the band.
In Miami, Stillwater is preparing for their final concert of their tour. A roadie, Sapphire (Fairuza Balk) talks with Russell and how he betrayed his friend, William. Conflicted, Russell buys a ticket and flies to San Diego.
Russell gives William the perfect interview that makes Stillwater famous and paints them as the "realest" band in a world full of phonies. William is immensely happy, and remains friends with Russell Hammond.
In the final scene, it shows Penny Lane is shown buying a plane ticket for Morocco. She sits quietly on the plane and looks out her window, smiling that she can now live the life she had always dreamt of.
All together, 'Almost Famous' is an outstanding film that centers on love, passion, and music. It encompasses such a turbulent time of uncertainty, but leaves the viewer with certainty of a better life we all are destined for.