Homecoming Dance adds new rules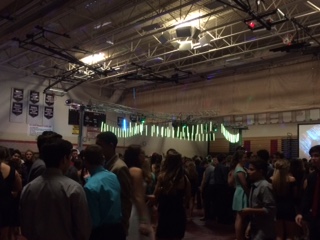 On Saturday, Oct. 3,  Huntley students and guests piled in the East Gym for the annual Homecoming dance.
A half hour before the dance, students lined up in front of the PAC doors waiting eagerly to get in. Ten minutes before people started filing into the PAC foyer, everyone was screaming "forget this" in anger.
Girls in short strapless dresses and boys in thin suits and ties had been standing outside in the cold for long enough.
Despite all the pre-dance drama, Samantha Schaefer, Student Council's Sophomore Class sponsor, was not surprised by the turn out; given all the rumors spread throughout the school prior to the dance.
"There are always rumors every year so I'm not surprised," said Schaefer. "The wristbands didn't make a difference."
As the night progressed, about half way through, students began loosening up. Everyone was dancing and grinding to the beats of the music, new and old.
Foods teacher Jaclynn Avner and math teacher Maggie Fulling were passing out green wristbands, in the effort to stop unnecessary touching and club-like dancing.
Some wristbands were thrown on the ground. On the other hand, some people were given warnings by Dean of Students Thomas Kempf. To Huntley natives, this is normal behavior.
However to Brazilian foreign exchange student, Juliana Peronti, this was an unnatural setting. Peronti, who doesn't have many school dances back home, did not fully understand how to describe the dance style.
She motioned the way girls sway their hips side to side and said "Girls dance like this back home, but not up against people. They do this with their friends."
Around 9:45, 45 minutes before the dance ended, tired teens began getting picked up. According to sophomore Katie Geisler there "wasn't anything to do anymore."
Hang on for a minute...we're trying to find some more stories you might like.