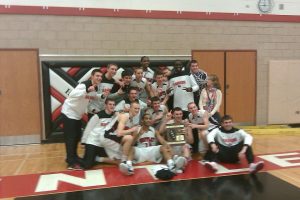 Huntley held on against in the fourth quarter against a resilient Larkin team Friday night, clinching both a win and its second consecutive Class 4A regional championship.
The Red Raiders (26-3) held the Royals (16-12) for the first three quarters, however poor play and a spirited press by Larkin erased a nine point deficit early on in the fourth.
Larkin had two attempts to tie the game in the final 30 seconds, however desperation 3-pointers by Larkin's Quentin Ruff and Quantice Hunter both bounced off of the basket.
A Troy Miller free throw with 3.4 remaining gave the Raiders a four point lead, and the game.
Junior Bryce Only led Huntley with 13 points, along with sophomore Amanze Egekeze who chipped in 11.
Huntley will go on to face Rockford-Auburn (26-2) in the semifinal round of the Dundee-Crown sectional Tuesday night. Rockford-Auburn defeated Huntley in last year's sectional title game.