Spazmatics put on benefit concert, support Huntley fine arts students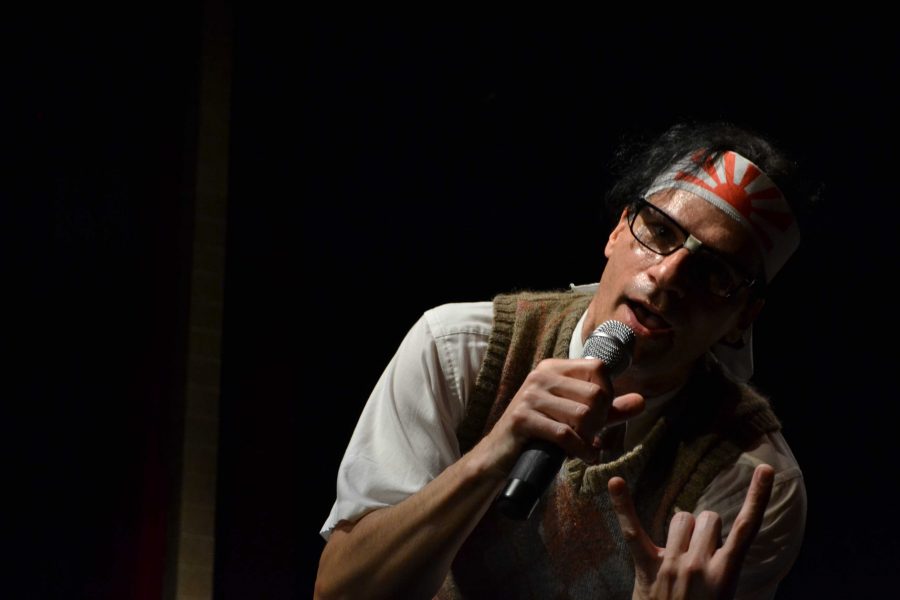 A group of four grown men, donning high socks, fanny packs, beanies, pocket protectors, bike helmets, sweater vests, Converse, and horned-rimmed glasses stood center stage before a partly-filled Performing Arts Center, putting on a performance consisting of the biggest pop hits of the '80s. As the group sang and danced to their covers of Def Leppard, Eddie Money, Journey, among other popular '80s bands, the audience consistently tapped their feet, and later many of the audience danced in the aisle.
Click here to view the Spazmatics concert photo gallery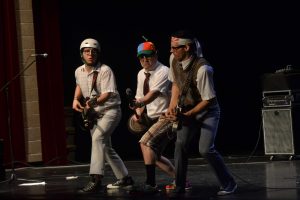 The Spazmatics describe themselves as a "nerdcore '80s band" and "The Ultimate New Wave '80s Show." The band says they were originally started in 1983 with physics professor Kevin Stigwood of Alta Dena High in Thousand Oaks, Calif. During a debate over String Theory with a student, the pair made a bet that whoever lost would have to sing "She Blinded Me with Science" at the halftime show of the next basketball game. Stigwood lost, and to avoid further humiliation at his lack of musical talent, assembled a group of friends, spawning the Spazmatics.
The Chicago Spazmatics travel the greater Midwest area, and they were brought to Huntley by Fine Arts Boosters President Cheryl Meyer.
"I heard about them because my son Drew, who is a sophomore at DePaul University, did lights for them last year when they performed at the Raue Center in Crystal Lake," said Meyer. "He came home and said, 'Mom, you have to book these guys because it was the most fun show I've ever seen.'
"The fine arts teachers turn in requests for grants and we distribute money like that," said Meyer. "We give some scholarships to seniors to use when they go to college, and we give some of it to freshmen, sophomores, and juniors who apply for grants to use for summer fine arts enrichment like camps and stuff like that."
In addition to ticket and concession sales, the boosters profited from a deal with Moretti's in Algonquin, in which they received 15 percent of the restaurant's profit, and an extensive raffle, which offered sports tickets, wine and massage baskets, a photography package, and lottery tickets as prizes.
"We're here for a good cause," said Louis Stigwood, lead vocalists of the Spazmatics.
Meyer estimates that the show more than paid off for the boosters, as they had already made substantial profits going into today from pre-show ticket sales and sponsorships.
"We were pleased with the amount of money we were able to make; the community was very generous," said Meyer. "It was a great show. It was really a fun afternoon."