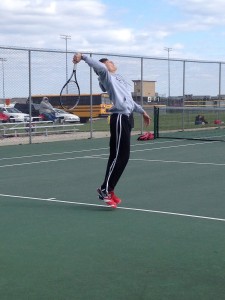 Temperatures of 40 degrees and brutal winds are a difficult obstacle to overcome for most sports, especially in tennis, where the player must be sure where the ball will land while taking the wind into consideration. This was exactly what the boys' tennis team had to do yesterday.
The boys were scheduled to play Woodstock North High School, a team in their Fox Valley Conference, which made the match very important to win. It will determine their seed placement when Conference comes around.
Luckily for them, the team finished with the blowout victory of 7-0. At number one singles was senior Tanner Novalinski, who, despite recent injury, won his match 6-2 in the first set and 6-1 in the second set. He played a strategic game because of the win and prevailed with ease against Woodstock's number one player Luke Versten.
At second singles was sophomore Connor Smith who got 6-0 and 6-4. Junior Garrick McDaniel also won at 7-5 and 6-2, and the last to finish but gave the team their 7-0 win.
"I personally did pretty well and was able to pull it off in the end. Our team altogether held strong and played well during the windy conditions," said Smith.
The four starting doubles teams also won with great ease just as well as the singles players. Seniors Alex Fermo and Connor Luzcak won at number one doubles 6-0 and 6-2.
"We [me and Connor] played good and solid. It was an easy win," said Fermo.
At third doubles juniors Aakash Maniar and Marek Makowski were the only team to have a clean win of 6-0 and 6-0. The second doubles team of Max Pilkerton and Nick Fangman won at 6-3 and 6-4.
"We were down three to four in the second set," said Pilkerton, "we came back with phenomenal net work and my series of nice overheads."
And at fourth doubles senior Brandon Aquino and junior Vince Kambitsis finished at 6-1 and 6-1.
"Overall, I think we played smart in the touchy windy conditions and it was our best meet so far this year," said head coach Barry Wells. "We still have a lot to learn and improve on, but I think it is starting to come together for a lot of them."
With a win over Woodstock North High School and better players than last year, the boys tennis team now may have the opportunity to do better at the Fox Valley Conference this year.